If you can't decide on what colours to use for your wedding, you can always use the seasons for inspiration. Of course, this doesn't mean your entire wedding needs to be themed surrounding the season, just the cute little invites. Do something a little out of the ordinary, and make a really good impression. In the end, it's your special day that matters the most, but it's always great to receive a compliment before the event occurs.
Winter
Winter wedding? Brr! Dress up warm, or at least get married somewhere with central-heating.
Wondering what colours to use? A colour chart of the best wintery colours can be found here:
As you can see, most of the colours naturally present in winter are dark and quite… dull. Of course, this doesn't mean your invites need to be. Rather than using de-saturated colours, why not use delicate ones?
We recommend violet, which is soft yet beautiful. Violets are best suited with mint green, navy and grey. One of our favourites is shown here: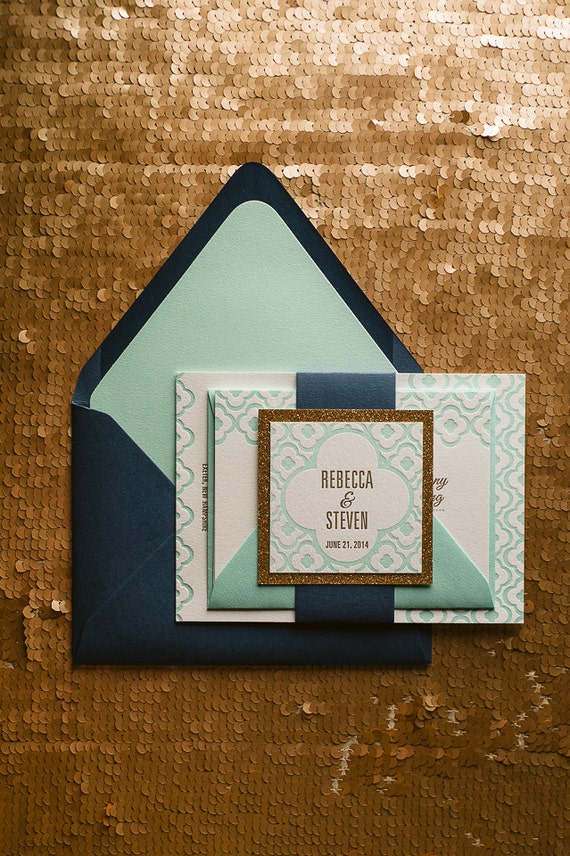 You can buy them here.
Of course, you need to be wary with ETSY, as with any online marketplace. However, many people have good experiences with this craft site, and it will allow you to add a more personal touch to your wedding.
Never underestimate the power of a good metallic – silver is an especially wintery colour, and can easily be matched with paler colours. Of course, you can either use silver as an accessory to your invite, or as a bold feature.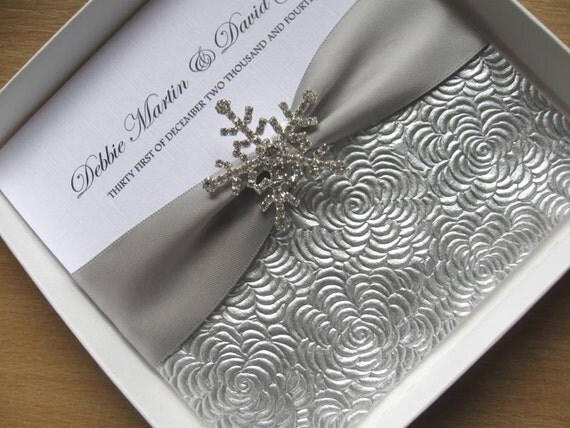 You can find the link to these gorgeous invites here.
If silver isn't quite your thing, then gold might be for you. Gold is classy, and is matched with some of the richer colours of winter – like black, gold or dark green.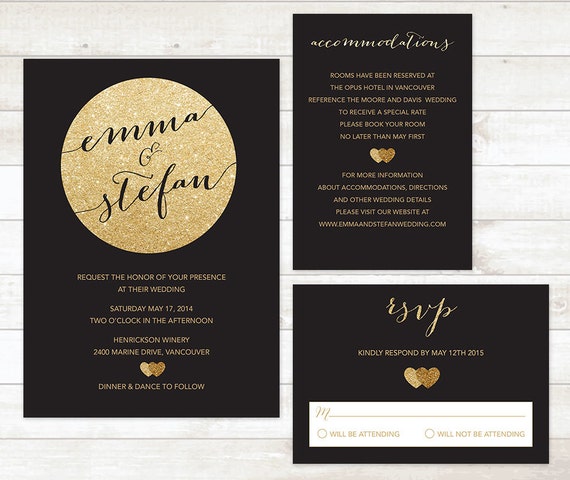 The link to where these beauties can be purchased is right here.
So, now that we've sorted out the colours, you will of course need some inspiration for the decorations to include.
Trees – wintery without being festive
Snowflakes are delicate and beautiful
Don't glitter-bomb them, though
Penguins and owls – if you love nature, then these are certainly for you
Of course, most of you having winter weddings will not want your wedding associated with Christmas. If so, it's best to keep away from red and green colouring. Snowmen also don't have quite the right feel for weddings.
Spring
The birds are chirping, the flowers are blooming and someone is getting married! Spring colours are bold, bright and beautiful.  Personally, we'd avoid pastels, as they're best suited to summer weddings. Make your cards stand out against the blooming spring with equally stand-out colours! Spring weddings are also great for being outdoors. If you plan of being one with nature, then why not design your invites to match?
Of course, if green isn't quite your thing, then soft pinks and blues are also great alternatives.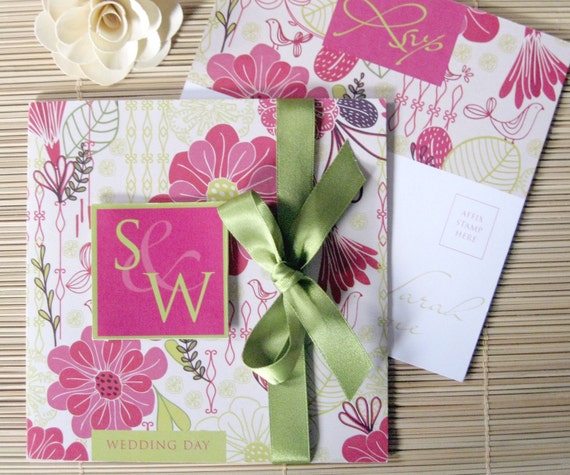 Here is where you can find the link to these soft pink and pastel green ones that we adore.
The best things to decorate your springtime invites with are flowers. Spring is the season of birth and regeneration – hence why it is also a popular time for christenings. Want something especially poignant? Choose daffodils and a yellow colour-scheme – they represent rebirth, joy and enthusiasm for entering a new part of your life.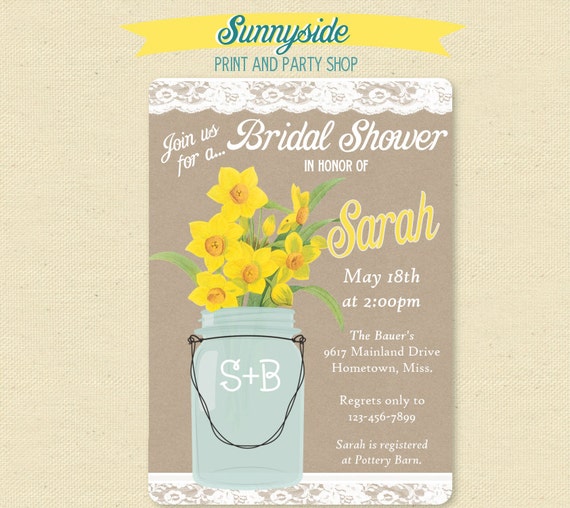 How about these cute and fun spring invites.
The ETSY link shows something for a bridal shower, but never be too intimidated to try and make your own. Personal touches are the best touches.
Summer
Summer is the most popular season to hold weddings. Of course, in the UK, it's the time of the year least likely to ruin your outdoor wedding with rain, clouds or snow. Why not show your enthusiasm for a sunny day with a summery wedding invite?
Summer is a season of many colours. When in doubt, keep to pastel and variants of your favourite colour.
If you're having a beach wedding (whether it be abroad or at home), what better than sunshine, sandals and soft yellow beaches?  Well, maybe deckchairs and flip-flops aren't the best items to have on your classy wedding invite. However, you can still maintain the seaside feel with bright colours such as blue.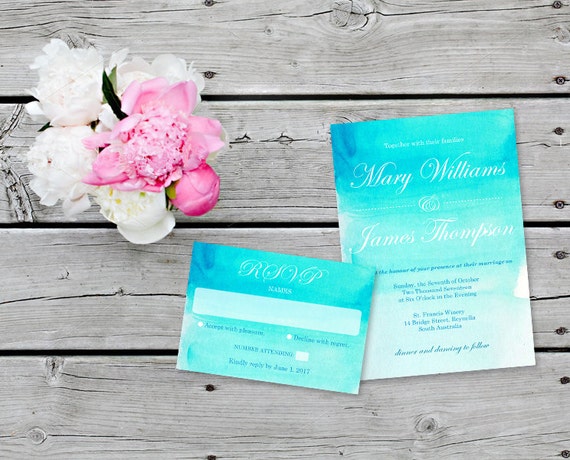 How about these ocean inspired invitations, link to them here.
However, if you love seaside animals (we're not talking about seagulls), then check out these cute little cards with things such as seahorses, turtles and crabs on.
How cute are those?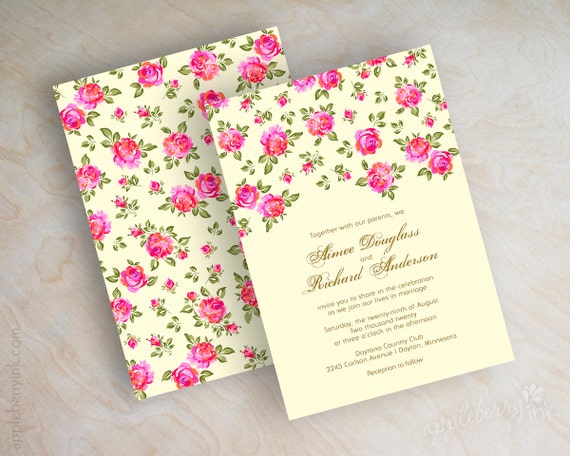 We love these traditional floral cards with matching envelopes.
Floral invites. Who doesn't like floral? Everyone should love flowers. If they don't, they really shouldn't be coming to a wedding. These cute little summer cards also have a vintage feel to them – if you're a fan of brands like Cath Kidston, then these are probably a good idea for you.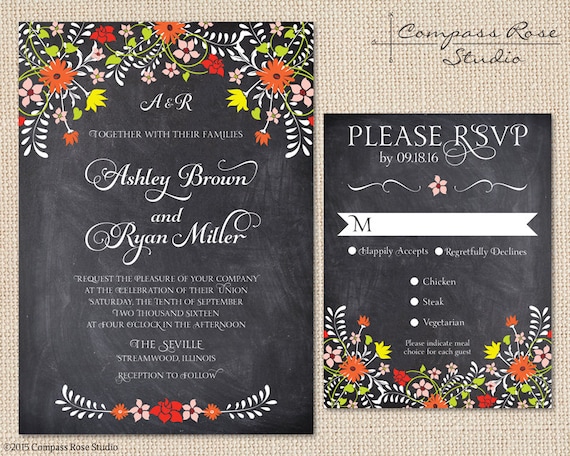 For that DIY wedding with all things crafty how about some chalk board themed invites, found here.
We understand that not everyone is up for bright colours on their wedding invites. If that sounds a little like you, then check out these Etsy summer invites. As per usual, the key to summer invites is floral. Mix it up a little with a dark chalk-board effect on your invite, with white writing. The colours shown are a little more suited to autumn, however, the cards are completely customisable! Black card is an awful lot harder to hand-write on, so you best choose a printed option like this.
Autumn
It's hard to beat Autumn – the season between a busy summer and a crisp cold winter. Autumn is full of bold and dark colours, such as deep reds and oranges. Of course, there are other colours you can use, but most people like the idea of falling leaves and the end of a stage in your life, to begin anew.
We love this autumn invite – it's so quirky!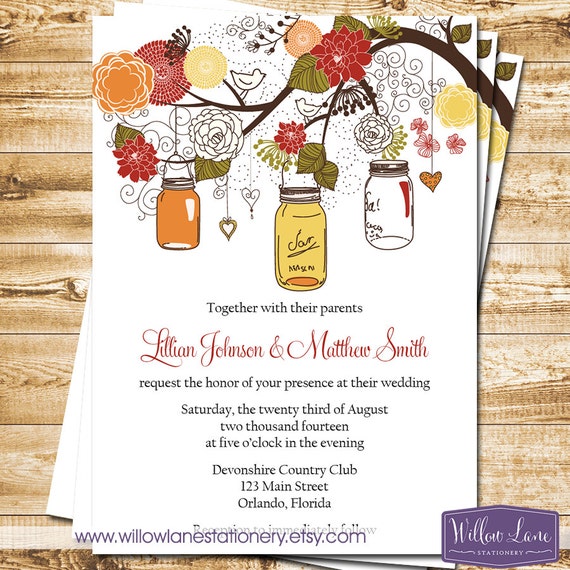 Link can be found here.
If you liked an idea shown earlier by the chalkboard summer postcard, then check out this wonderful invite for Autumn. As well as having the typical autumn colours, it has the right amount of formal floral. This is especially good for modern or outdoor weddings, with evening ceremonies.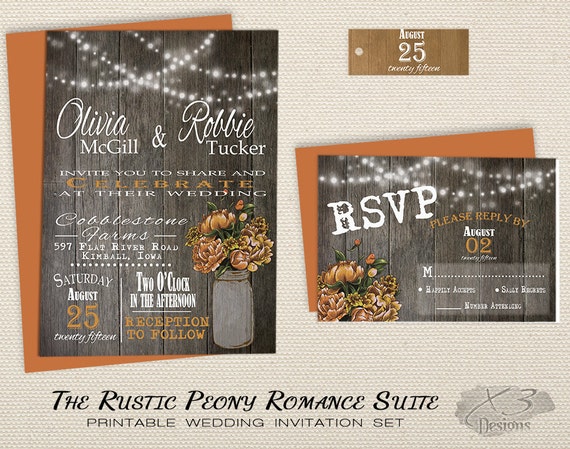 This autumnal rustic invite can be found here.
If you fancy a bit more variation than just orange, this invite is laced with a wonderfully bold purple, yet still maintains a refined wedding look.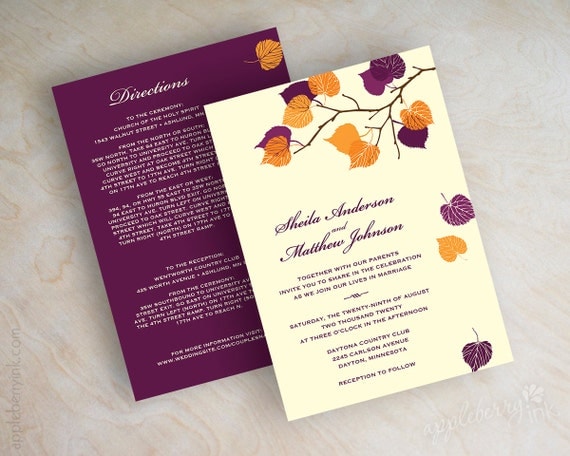 We love plums mixed with autumnal orange and these invites are the perfect combination of both.
If you fancy making your own autumn invites, then we recommend water colours. If you aren't a fan of paint, then crayons also work well if shaded lightly. Or you can simple buy this scrapbook textures.
Hopefully you've found some inspiration for your seasonal wedding invites. If none of these are for you, simply  check out some Etsy.com listings for inspiration, prices vary.
Comments
comments